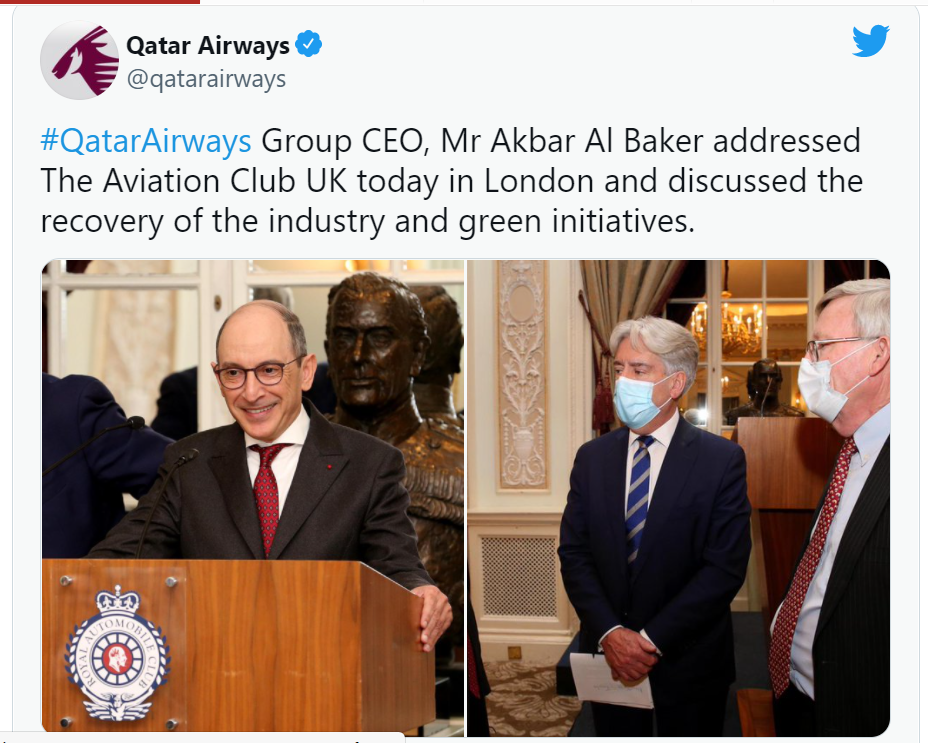 Reported by BTN – Malcolm Ginsberg:
Speaking at the Aviation Club in London last week Qatar Airways' CEO Akbar Al Baker said that Airbus needs to admit it had a problem with flaws on the surface of its A350 jets and ruled out buying freighter planes from the European aircraft manufacturing company.
BTN's Editor in Chief made a presentation to His Excellency. Having spent 23 years as Qatar Airways CEO Al Baker is now the longest serving CEO of a major airline.
"They acknowledge that they are working to find a solution, which means they don't have a solution, and they don't have a solution because they don't know why it is happening." Al Baker compared the issue with the production and quality issues Boeing has with the 787, saying: "Boeing's problems with the 787 are 'dwarfed' by that at the A350."
Al Baker confirmed that Qatar Airways had grounded 20 of the long-range A350 jets in a month-long dispute over paint and other surface damage that has also prompted the airline to halt further deliveries.
"Qatar Airways cannot sit with its arms folded and legs crossed. We need to solve it. Airbus has made a very large dent in our widebody operations," Al Baker said.
"It is a serious matter; we don't know if it is an airworthiness issue; we also don't know that it is not an airworthiness issue. The real cause of it has not been established by Airbus. Now they have, at last, accepted that there are other airlines, several of them that have the same condition."
An investigation done by Reuters showed that the Qatar Airways issue over the A350 is not an isolated case. A private maintenance message board used by Airbus and A350 operators and reviewed by Reuters showed that as early as 2016, Finnair had raised concerns over paint and reported in October 2019 that damage had spread below to the anti-lightning mesh.
According to the investigation, Air France, Cathay Pacific, Etihad and Lufthansa also complained of paint damage.
The response to His Excellency's discourse was given by Malcolm Ginsberg, Editor-in-Chief Business Travel News (BTN), who said that Al Baker sought every opportunity to promote Qatar and his airline.  "I might as well add a certain Michael O'Leary who also took the same route, but with far less civility.  I know which airline I would prefer to fly on!"
Other stories can be found at the following links:
Aerotime Hub: https://bit.ly/3IRoLZO